The Panthers officially brought Steve Smith back to Charlotte for good. The reality behind the scenes? He never left
By Jourdan Rodrigue, theathletic.com
Original Article: https://theathletic.com/1295465/2019/10/17/the-panthers-officially-brought-steve-smith-back-to-charlotte-for-good-the-reality-behind-the-scenes-he-never-left/
The first time Steve Smith ever went to the dentist, he was a little boy.
The second time was right after he was drafted by the Carolina Panthers, and the dentist found 13 cavities.
But what could he have done to solve it, while growing up in poverty in Los Angeles — and at times, fleeing the abusive situation his mother was in, at the hands of an ex-husband (not Smith's father)?
"It was dentist or bills. Or lights. Or water. Or food," he told The Athletic. "And my mom chose between the need and the want."
Every day of Smith's childhood was a battle that far outweighed a toothache. After he was selected in the third round of the 2001 NFL Draft by the Carolina Panthers, he translated that fight to the football field. His toughness and tenacity as a player — his ability to gut through injury and illness alike — were unparalleled. His voice on the field was loud, and he backed it up. That led to 16 seasons and an all but assured first-ballot Hall of Fame berth before his retirement in 2016.
Retirement brought no less to Smith's plate. On the Monday Smith spoke with The Athletic in his foundation offices in South End, Charlotte, he was juggling a dozen projects and a Chipotle burrito.
He didn't have time to eat the entire thing. Smith is an NFL Network analyst, and he had flown directly from a "Thursday Night Football" call in Seattle to Charlotte to prepare for a pretty substantial weekend: He was getting inducted into the Panthers' Hall of Honor. So that Monday after the ceremony was a day of processing the weekend, from the rehearsals to the brunches to the dinner at which he and the three other inductees gave heartfelt speeches, to the event itself not 24 hours earlier.
At some point, a tailor walked into the office to get him fitted for the suit he would wear on his next call that weekend. Then he had to prepare for his live hit that night, and then he was flying to New York City. Smith put down his burrito and flashed a glimpse of his calendar, which is divided into three sections: "Work," "Steve" and "Foundation."
Many times, all three parts of Smith's life revolve around each other frantically like spinning tops on a table. But when he began to discuss his foundation, he leaned forward in his chair, eyes flashing, and the rest of his worlds seemed to pause for a moment, because his work there is his purpose and his legacy away from football, too, for a very personal reason.
The Steve Smith Family Foundation has worked quietly over the last six years to help eliminate the need for women to choose between the "need" and the "want," like Smith's mother had to, and to instead provide both.
It advocates on behalf of victims of domestic violence but also helps provide affordable health care and counseling, has partnered with safe houses and shelters for those fleeing violence and now runs a brick-and-mortar clinic.
October is Domestic Violence Awareness Month, a crucial time for effectively spreading awareness for Smith's foundation and cause.
The beginning of October also meant the Hall of Honor ceremony, a day that many in Charlotte viewed as a "homecoming" for Smith after he was indelicately cut by the team in 2013.
But the truth is, Smith has been in Charlotte, even before the Hall of Honor expansion was an idea circulating in the Panthers' team offices under new ownership, and even when he was unceremoniously told to leave them. He has been here because his wife, Angie, and his kids are here, and he has been here because the foundation is here, too, and here is where the people in his community needed his help.
Smith's job changed in 2013, but his purpose didn't.
"I don't believe any kid should feel the way I felt," he said. "The first time I saw my mom get beat up, I was probably 9 years old. You tell me what kid deserves to watch their mom get cussed out, talked down to. I don't think that's the way life is supposed to work. To see your mom get mistreated, treated in a way that is not the way a man should treat a woman — especially one he says she loves — and to see the cycle, that sticks with me even to this day."
---
In late 2014, Smith met Gerard Littlejohn. He got his name from a mutual contact of theirs who knew that Littlejohn, in marketing at the time, had a dream of running an athlete's foundation.
Smith needed direction (and a director) for the foundation he had established with Angie in 2013 and had a few big ideas. So he gave Littlejohn a call.
The two men spoke for just a few minutes that day about the job itself and then spent the next hour just … talking.
They learned they came from similar backgrounds. Littlejohn, 34, grew up in a single-parent home in Lexington, N.C., and shared a small apartment with several family members. Quarters were so tight that Littlejohn had to split a bed with his mother until middle school. And he didn't find out that his mother had been abused by an ex-husband until he was an adult. Reconciling with that, and then working through it with his mother, was a process.
Smith understood that.
Smith invited Littlejohn to his home in Charlotte to discuss their ideas and get to know each other a little more. Again, they talked for hours — Littlejohn jokes that it was the most personal job interview he's ever had. Smith was adamant that he had to trust the person running his foundation; Littlejohn was adamant about the same.
But as it turned out, they didn't have to worry about that. They clicked immediately, and Littlejohn bought into Smith's vision for helping others.
"It was like catching up with my brother that I had never known," said Littlejohn. "He was telling me about why he started (the foundation). He was sharing with me about his mom, how his mom got abused and witnessing it from a young age — having that anger about it, that resentment, seeing your mom treated the way she was treated.
"He was explaining it to me, and we were talking about our same struggles."
Littlejohn calls it a "shared learned experience." It allowed them to build their own relationship from a place of empathy and understanding, but it also became a shared priority of the work of the foundation: to hear and know what somebody needs based on an understanding of their personal experience, instead of simply telling them what they need.
"Our foundation is really formed out of two young men who experienced brokenness at a very young age," Smith said. "And not at the hands of their (own) actions, at the hands of other people's actions who happened to be men."
Smith and Littlejohn also both knew what it felt like to have their own pain used for someone else's public relations play. They knew what it was like to feel as if they were simply a box that was checked, and nothing more.
So when they began to go out into the community together, organizing fundraisers and volunteering at shelters, the first thing Smith and Littlejohn did was keep most of it away from cameras and media. The second thing they did was listen.
"What you see with a lot of nonprofits is people going in and prescribing what people need to be doing, instead of going in and listening," Littlejohn said, "instead of saying 'What do you need?'
"Steve is great — not good, great — in that. He always pays attention to the little things that completely turn around — like if you overlook it, it's a bear trap but if you catch it, then it sustains something."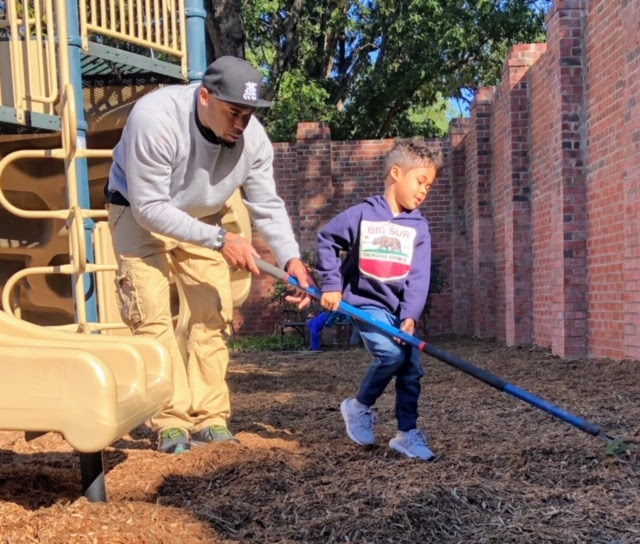 Steve Smith has been getting work done in Charlotte. (Courtesy of Gerard Littlejohn)
Smith's problem-solving methodology and ideas for helping people are extremely detail-oriented, and don't just come from listening specifically to their needs — they also come from his own childhood.
One year, Smith suggested that the foundation begin collecting welcome mats in bulk to lay outside of safe houses and shelter rooms. The goal was to help someone feel a personal touch to whatever new place they were living in, because Smith had crossed far too many bare thresholds as a child, filled with fear and wondering whether this next refuge would be a safe one.
The foundation also collects toiletries and even feminine hygiene products, knowing firsthand that these things often are forgotten in the fearful rush of fleeing.
"You think that she's thinking about tampons or her life?" said Smith. "Those small things go such a long way."
There's an entire room in Smith's offices dedicated to all of these supplies, and so much more. Smith, said Littlejohn, thinks of everything because once, he needed everything.
"There were times when my mom came home, and we (only) had so much time to get our stuff together," said Smith. "And what do you throw it in? Duffel bags, trash bags. I always remember that, and I talk with people and I tell them, 'Can you imagine that? You have 15 minutes to grab your whole life and put it in one bag?'"
Every December, Smith, Littlejohn and their wives take a U-Haul truck with wrapped gifts, toys and supplies to families staying in shelters around the city and personally deliver them. Littlejohn said Smith usually shows up to the truck before he does, so he can load it himself.
"He's intentional," said Littlejohn. "He means what he says, and he does what he means. He always did it on the field. And I think that's amazing, I always commend him for what he does on the field.
"But who he is on the field is not even a fraction of the amount of who he is outside of football. I know he's a Hall of Fame football player, but he's in the Hall of Fame of life, too, and I think that speaks to his character more than anything else."
---
It's important to know that the biggest growth the foundation saw in Charlotte was while Smith was actually playing for Baltimore. Littlejohn was hired as Smith began making his transition to the Ravens, where he played the final three years of his career.
The two ran some charitable projects in Baltimore, but Smith often flew back and forth to help Littlejohn with projects in Charlotte, or to volunteer with him at shelters, meet with potential partners and board members and develop plans for expanding their efforts.
That's why it irked Smith to no end when he used to fly back to Charlotte, and a fan would spot him in the grocery store or pumping gas and say, 'Hey! Welcome back!'
Smith's response never wavers.
"'Welcome back?'" he laughed. "Where did I go?! I've been here the whole time!"
In 2016, just before Smith announced his retirement from the NFL, he and Littlejohn concluded their biggest project and the biggest milestone for the foundation to date: The Smith Family Wellness Center officially opened. It operates out of a small brick house in East Charlotte, and features two full-time physicians, a full-time counselor and a part-time counselor.
The building is intentionally humble. When planning its architectural makeup, Smith and Littlejohn had the option of making it look more corporate, more medical.
Smith Family Wellness Center. (Courtesy of Gerard Littlejohn)
"Steve said, 'No. I don't want all of that,'" said Littlejohn. "If we had built it new, it wouldn't be (approachable). People would think it's intimidating. So we took this house, that people (in the community) know about … we started small."
They'd also prefer that women use word-of-mouth referrals, because in Smith's experience, a safe place is more trustworthy and approachable when it is suggested by a friend, relative or colleague. Littlejohn said the wellness center has seen its numbers increase because of that strategy. The Smith Family Wellness Center is one of the largest referrals of Mecklenburg County court-ordered domestic violence cases, and it is also highly referred by shelters in the area.
The clinic is 1,300 square feet. But it has served almost 4,000 unique patients in Charlotte with over 7,500 medical appointments, 3,300 counseling sessions and as of this year, the foundation crossed the million-dollar threshold in funding raised through grassroots efforts and partnerships — with more still to do to help the 1 in 4 women who experience abuse at the hands of an intimate partner.
Its approach to total mental and physical health care is unique, too.
Affordable health care options include dental and vision, because Smith knows from his own childhood that those two areas often fell by the wayside when his own mother was trying to distribute their limited funds. The clinic also travels to schools to provide full physicals — not just sports physicals — for kids before classes begin each fall.
As Littlejohn and Smith planned the clinic, integrating counseling with medical care became a top priority because of Smith's own battle with anxiety and depression.
"The actual words I used were, 'If we don't do counseling, we're not doing none of this shit,' that's exactly what I said," said Smith. "Because you can give someone a checkup and tell them that their heart reading is perfect. But that machine is not going to pick up brokenness. That machine is not going to pick up loneliness (or) depression."
Their objective is to help the women who seek those resources find the tools to break abusive cycles, or to heal to the point where their own trauma does not affect others (like their children, if they have them).
"How do they not let it permeate into how they parent?" said Littlejohn. "Or how they will go on and have a healthy relationship — like what is a healthy relationship, from the beginning? That is some of the stuff where we are successful — because we have to think about it from the other side, because we were onthe other side."
Smith was playing for the Panthers in 2002 when he began seeing a sports psychologist, but it wasn't until 2013 when he really began to regularly seek counseling.
"You address it, you go down that path of those wounds, and you come out and you're just drained," he said. "You feel like crap. You feel less than. Imagine being an adult, and feeling less than … But you have to deal with it. And if you don't deal with it, it infiltrates every area of your life. And you start to respond to things and people in a way where you go 'Where is that coming from?'"
Smith's work on himself often ran parallel to the work on his foundation, because drawing on his own experiences also meant reopening the wounds that he has tried for more than two decades to heal. That, at times, can be emotionally brutal for him.
But that didn't mean the work ever stopped.
"While he's going through it, he's also helping people along the way," said Littlejohn. "Most people wouldn't do that. You'd just tuck yourself into a corner, maybe deal with it, and maybe then think about doing something (for someone else).
"So many times, we think we have to be a finished product before we go out here and help people. But he said, 'In my own brokenness, I will help others.'"
Shortly after the clinic opened, Littlejohn walked in and saw a patient sitting in a chair, waiting to be served by their staff. That's when the magnitude of what he and Smith had just accomplished hit him.
"Dang, that was an idea," he thought at the time. "Now somebody is sitting in here waiting for our help. … We are actually doing tangible work."
Littlejohn walked out of the room, sat in his car, and cried.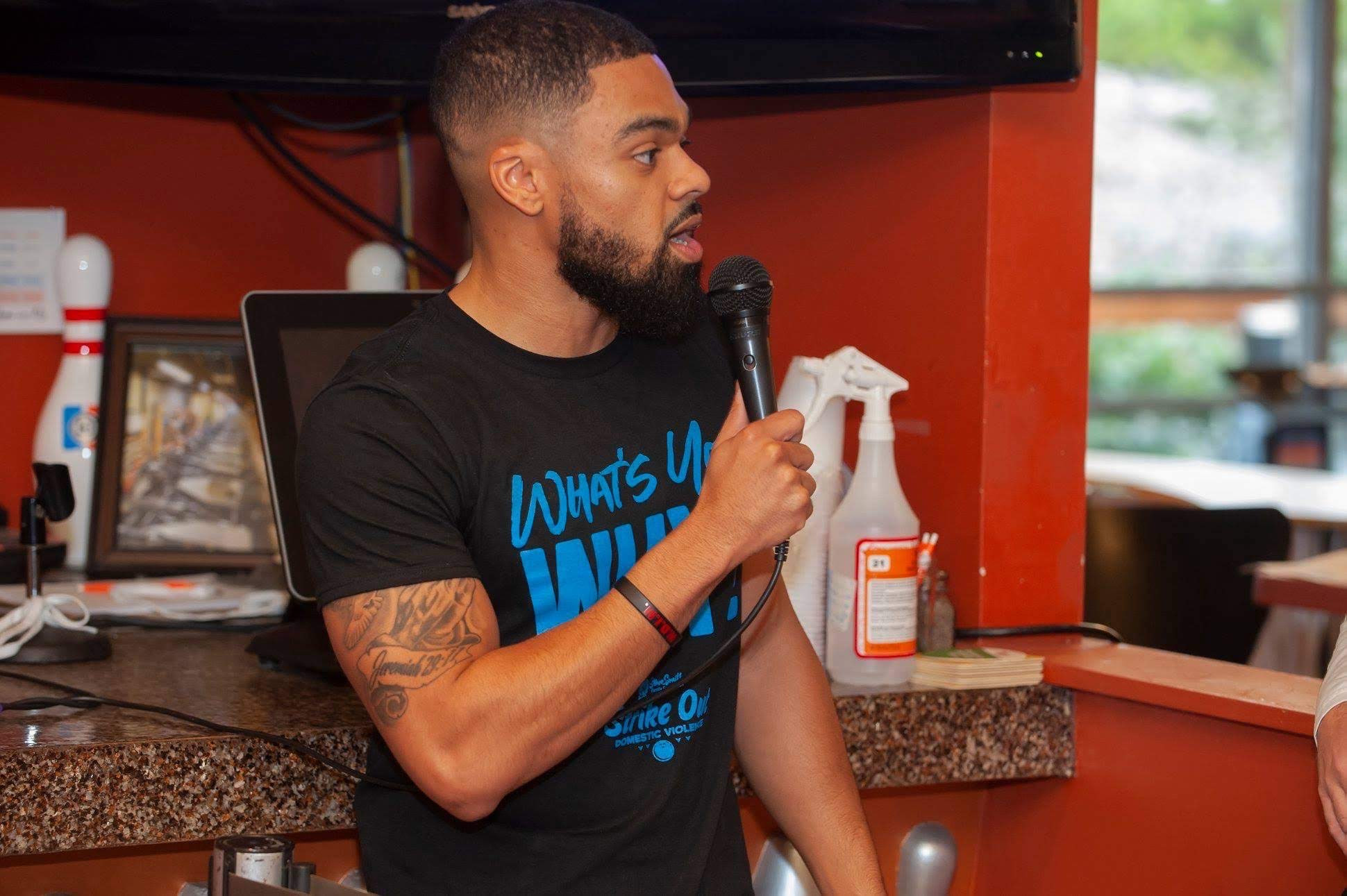 Gerard Littlejohn, director of the Steve Smith Family Foundation. (Courtesy of Littlejohn)
---
Expanding the Hall of Honor class was one of two major priority projects on team owner David Tepper's list when he took over in Carolina in 2018 (the first was replacing the NFL shield with the Panthers' logo at midfield at Bank of America Stadium).
Though the class would ultimately include all-timers in tight end Wesley Walls, left tackle Jordan Gross and quarterback Jake Delhomme, Smith — just as he was on the field for so many years — would make it feel complete.
"All of these guys in this first class of guys who are in here are in here for a reason. They are backbone guys. Every single one of them are backbone guys," said Tepper. "(But) you don't stand up straight without Steve Smith as part of your backbone."
To make it possible, it's no secret that there was a relationship to repair between the organization and Smith after his now-infamous exit.
Panthers general manager Marty Hurney, with whom Smith has always been close, helped make the original connection between Smith and Tepper. When Tepper reached out to him, the two set up dinner at a steakhouse in Charlotte — Smith's recommendation — where they sat and talked for a while.
Like Smith did with Littlejohn years earlier, they began to find some common ground. Both men worked their way up from humble beginnings that, though adverse in very different ways, helped shape them. Both men are big on the concept of trust.
And both are known for being … blunt … about their intentions. But Smith is the type of guy who appreciates honesty, and so is Tepper.
"If you want to say that we both kind of speak what is on our minds, and we don't bullshit around, I think that's probably true," laughed Tepper. "And listen, we both came from interesting situations and it's easy to talk about in that way. I genuinely like Steve."
Tepper was also drawn to Smith's charity work. He has been open about his pride to have stopped the cycle of physical abuse he suffered as a child at the hands of his father.
"Steve is a great guy, a great community guy in Charlotte," said Tepper. "Full stop.
"He's always been involved in the community. He never left being involved in the community — even when there was some sort of rift with the team, he was involved with the community."
So on the first Sunday in October, Tepper and the Panthers cemented Smith's place in Charlotte in the best way they knew how.
It was a bright, gorgeous afternoon. Like the other three honorees, Smith had been fitted by the team for a custom blue suit jacket with photos of his football highlights imprinted on the inside. But for most of the day, Smith, who for all his vocal play in the NFL for 16 seasons compared any adulation he receives to trying to pass a kidney stone, wore a nondescript gray athletic hoodie so he'd be a little less noticeable.
But he donned the jacket when he gave his speech, and then took it and the hoodie off again to reveal he was wearing his old Super Bowl jersey underneath the whole time, much to the delight of the crowd.
That even came as a surprise to Smith's own family, but of course, he had thought of the detail privately and executed it.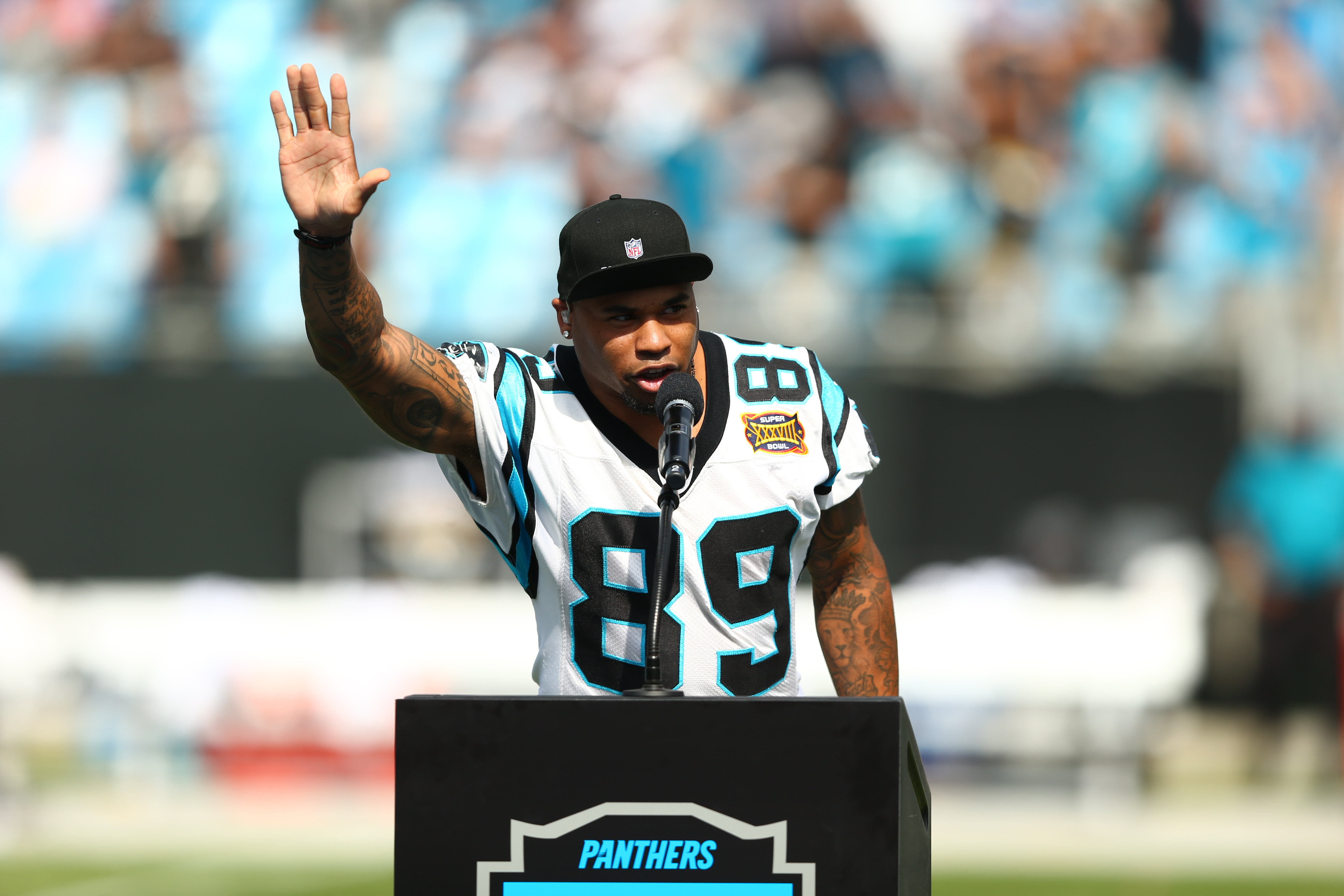 Steve Smith at the Hall of Honor induction. (Jeremy Brevard / USA Today)
As the ceremony drew to a close, a Panthers staff member pulled off the large tarp covering his nameplate, which sits high in the air around the upper concrete lip of Bank of America Stadium. The tarp crumpled to the ground and the plate flashed bright blue in the sun, marking Smith's permanence within the organization.
But Smith's true legacy in Charlotte is bigger than that, bigger even than his accomplishments on the football field and more lasting than the nameplate that will stay at the top of the stadium through dreary winters and boiling summers for decades.
His legacy lies in that little brick building in East Charlotte, in his own two hands and in Littlejohn's too, and it has been growing in the community that is theirs even when Smith was forced to make his living away from it.
After the ceremony, Smith's 22-year-old son, Peyton, sent him a text that he read aloud Monday afternoon in his office.
"Dad, I wanted to be able to say something to you in person, but didn't think I'd be able to make it through. I'm more proud of you than you know. Today was about your hard work, and you deserve every second of it."
Smith's voice began to crack and his eyes filled with tears. Sniffling, he continued.
"I've always been able to say I'm proud of the football player you were. But now I can say that I'm proud of the man, and the dad you are … Love you, Pops."